Mirion Technologies Selects Nitrogen Generator Supplier for its East Tennessee Facility
In 2021, Mirion Technologies, Inc. relocated its Dosimetry Services Division production to Oak Ridge, Tennessee, not far from Knoxville. The new facility required an onsite nitrogen (N2) generation system, so Mirion contacted Parker's Industrial Gas and Filtration Division. Knowing our successful experience with compressed air and nitrogen systems, Parker reached out to John Bouchard & Sons Co. (JBS), a nitrogen generator supplier, to assist with the design and implementation of the project.
Mirion Technologies is a leading provider of detection, measurement, analysis, and monitoring solutions to the nuclear, defense, medical, and research end markets. Mirion provides solutions that allow their customers to safely leverage the power of ionizing radiation for the greater good of humanity. Thanks to their products, thousands of people remain safe from the dangers of radiation.
The JBS compressed air applications team worked with Mirion to specify and design the system, which included 100% redundancy to insure minimal risk of production downtime.
Nitrogen Generator Installation
As a nitrogen (N2) generator distributor, JBS implemented two Parker NITROSource PSA (N2-55-PXLN-NA-B) nitrogen generators; two Gardner Denver 40hp LRS Series (L30RS), variable speed, rotary screw air compressors; two Parker Clean Dry Air System (CDAS HL85) heatless desiccant air dryers; and the required filtration and air receivers needed for the project. The Parker PSA nitrogen generator produces nitrogen gas to 99.9995% purity. And the Parker CDAS dryer provides the -17°F compressed air inlet dew point required for these generators. The turnkey installation included Applied Systems Technologies' blue compressed air and green nitrogen aluminum piping systems.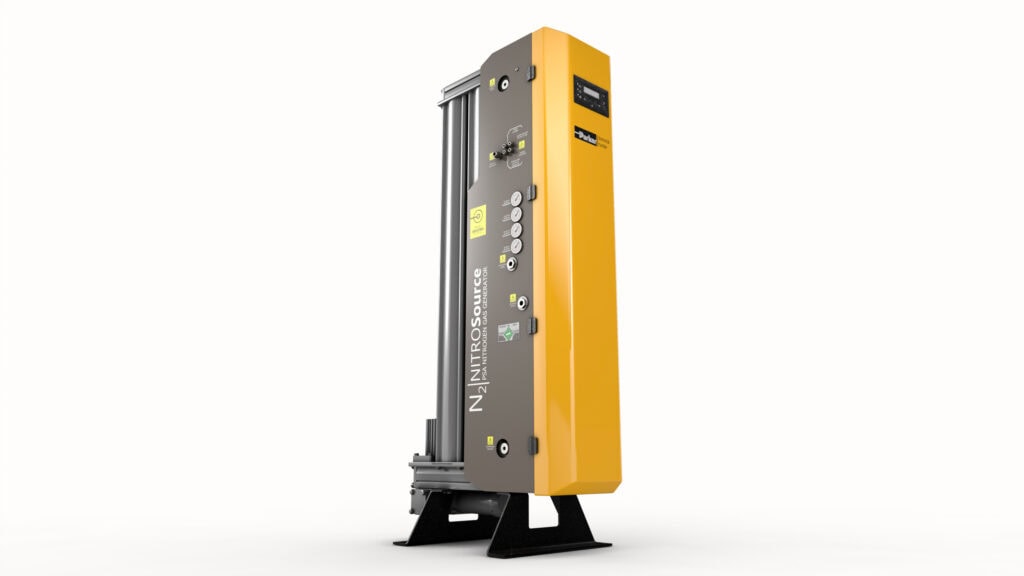 The electrical situation proved to be particularly challenging for this project. The customer specified the equipment needed to be 230-460 volt 3-phase, however, due to construction challenges, the only power available at the site was 208-volt 3-phase. Because of this, the team had to install buck-booster transformers to increase the voltage from 208 to 230 volt.
The system is currently running smoothly, and Mirion has reached out to JBS for assistance with expanding their system, due to growing production capacity needs.
.